Cloak of Evil (2006 cancelled)
All illustrations are © Kevin O'Neill, Pat Mills
Released material
Although scheduled for 2006 by Titan Books, in the same format as "The Day of the Dead", this other story has never been published separately. It was included in the book "Marshal Law: Origins" released in 2008 by the same publisher, with four B&W illustrations. Below is the proposed cover for the 2006 cancelled release.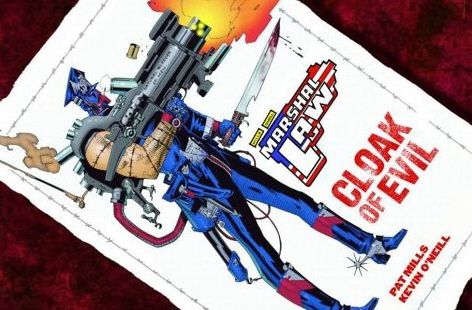 Plot
Marshal Law is investigating a sordid murder linked to a politic and sexual scandal dealing with orgies, international spying and occult ceremonies.
Following his case, the policeman finds himself up against the Secret Chiefs, a secretive club with high profile members protected by the dreadful and unnoticeable super hero known as The Cloak. And because one villain is not enough, Marshal Law has to face two of the most powerful ex soviet union heroes, Iron Wolf and the dangerous beauty Black Madonna.