Cool Beans World (2001-2002)
All illustrations are © Nick Percival, Pat Mills & Kevin O'Neill
Introduction
Cool Beans World material has long been erased from Internet viewers, for it has closed down a few years ago. Back then, I had the chance one day to surf the free portion of the site, but sadly didn't make copies or screen shots of it. So, this article has been created from bits and pieces I've collected through my search engine, and for the moment, there is no way to correctly verify the accuracy of certain claims reproduced here. I apologize in advance for any mistake or misquote.
Cool Beans World
Launched in March 2001, this pioneer web site (how many original web comics contents back then?) has given itself the mission to published innovative 2D comics using Internet navigators' tools, and 3D cg animation shorts. Initiated by a massive publicity campaign, CBW could boast about providing great names of the British comics industry such as Pat Mills, Simon Bisley, Kevin O'Neill or John Bolton and the author Clive Barker. The projects listed bellow (published, previewed or just announced), was coordinated by Nick Percival (as artistic director):
Marshal Law (illustrated novellas and 3D animation), Scarlet Traces (Charlie Adlard), Doomkeeper (Bisley), Saintly & Krieger (cg animation), The Yattering and Jack (Clive Barker and John Bolton), Kingdom of the Wicked (D'Israeli, Edington), Bone'Ed, Dark Frankenstein (Edington and Simon Davies), Torturer which would bring back the tandem Pat Mills /John Hicklenton (Nemesis and Black Man's Burden) and published in paper form in Germany by EEE.
Two illustrated novellas of Marshal Law were brought online : "The Day of the Dead" and "Cloak of Evil".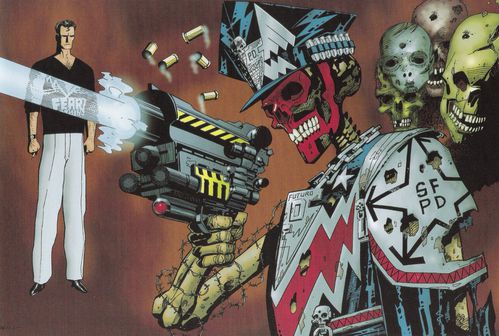 CBW ceased operation in May 2002, as its mother company Cool Beans Production went into an administrative receivership (as a paradox the site has won an award in October 2001 for "best site of the month"-Internet Magazine).
Some documents
Cool Beans Productions press release for the launch of the site :
"As one of the UK's leading players in digital content creation, Cool Beans Productions (www.coolbeansproductions.com) has a wealth of experience in bringing ideas and concepts to life in both 2D and 3D and also for wireless platforms such as WAP and PDA's. Applying the same software technology that was used by Pixar in "Toy Story" and "A Bug's Life", we create breathtaking computer generated (CG) visuals and animation for leading new media and entertainment companies. May 2001 saw the launch of the eagerly awaited CoolBeansWorld™ (www.coolbeansworld.com) a dark and gritty experience that redefines famous comic book heroes and stories, featuring exclusive new material by top writers and artists in the comic book business such as Simon Bisley, Pat Mills and Kevin Eastman."
A detailed presentation of the site found here:
"Seven on-line fantasies start Cool Beans World spinning. Pat Mills and artist Kevin O'Neill inject a heavy dose of cool carnage with an epic, all-new Marshal Law storyline. Alongside it, The Saintly Prologues chronicles a dark, computer-generated face-off between a schoolteacher and small-town evil. Clive Barker's The Yattering and Jack tells of a demon's attempts to capture the soul of a middle-aged pickle importer from London. While in Kingdom of the Wicked, a writer falls into the poisoned realm of Castrovalva, a world he once imagineered as a child. The digital tales of mad scientist Krieger, future convict Bone Ed and moody creature-feature Dark Frankenstein complete the launch line-up. Cool Beans World is a subscription-based service. Membership of the site can be purchased on-line and costs $2.95 (for four weeks), $16.95 (for six months) or $29.95 (for 12 months).

"We've had an amazing response to our preview site," says Cool Beans World Creative Director Nick Percival. "We're also being regularly approached by comic book writers and artists, keen to bring exclusive new projects to us and to develop existing ones. Many of these are big, big names - one great project is Clive Barker's The Yattering and Jack, lavishly illustrated by the award-winning John Bolton. It's quite surprising how many creators out there want to embrace the technology Cool Beans World can offer, and see what it can do for them and their creations."

Marshal Law: Cool Beans World plans to bring all of the classic Marshal Law adventures to a new Internet audience. Enhanced with digitally animated episodes, plus a 182-page book-length thriller, Fear & Loathing, which reveals the Marshal's origin. Marshal Law: Fear & Loathing is written by Pat Mills and stunningly illustrated by Kevin O' Neill.

The Saintly Prologues: Saintly is a computer-generated horror flick that has been developed by Cool Beans Productions. The Prologues are a series of CG animations introducing some of the bizarre and dangerous characters in the film, which focuses on a group of children who go missing in a mysterious town, one Halloween. The chief suspect is a loner gravedigger, dubbed Old Gimpy, but there are strong hints at supernatural forces at work. 'The Saintly Prologues' are supported by bonus comic book material, biography pages, behind-the-scenes information and lots of extras.

Krieger: The mad scientist who has a sinister link to the events in Saintly gets his own computer-animated series. These e-episodes follow Krieger's twisted experiments, his failed creations and visitors will even be able to follow his monthly journals online, giving an insight into his warped mind. Krieger's regular journals are written by Pat Mills and they contain some of his best writing to date, supported by insane graphical imagery from the guys at Cool Beans World.

The Yattering & Jack: Written by Clive Barker, and lavishly painted by award-winning illustrator John Bolton, The Yattering and Jack tells of a demon's attempts to capture the soul of a middle-aged pickle importer from London. It's the first of three planned collaborations between Barker, Bolton and Cool Beans World, a major work fantasy-fiction to be followed by painted stories The Llehs and Mail's Revenge. The Yattering & Jack will be supported by exclusive behind-the-scenes material and interviews.

Kingdom of the Wicked: On-line and in color for the first time, Kingdom of the Wicked is beautifully illustrated by D-Israeli and written by Ian Edginton. When the childhood creations of a renowned author return to haunt him, taking on lives of their own, the tormented writer slips into the realm of Castrolvalva. But the fantastical domain he dreamt up as a boy has now turned into a surreal nightmare world. Kingdom of the Wicked features numerous animations plus a mood setting original soundtrack.

Bone 'Ed: For those who like their comic books to hit hard and take no prisoners, Bone 'Ed offers something completely different. The creation of former 2000AD art droid, Dave Millgate, Bone 'Ed serves up in-yer-face action, ink-black humor and eye bleeding visuals. Written by Simon Millgate, Bone 'Ed is a bloody, violent tale of a deep-space prison colony and a convict who wants out. Having already achieved a cult following on the web, Bone 'Ed offers intense, knife-edge storytelling with an extraordinary imagination and style.

Dark Frankenstein: Another unique animated comic book, Dark Frankenstein is written by Ian Edginton and illustrated with the dangerous paintbrush of Simon Davis. Set in the surreal city of Tyler, it tells of a dark creature that lives in alleyways feeding on the innocent. Detective Madeline Franke is doing all she can to track the monster, but sinister forces are at work behind the scenes hindering her attempts to do so. A moody soundtrack and animated effects add a new dimension to the traditional comic book. Support materials will include CG sequences, character biogs and behind-the-scenes information.

Future titles scheduled to appear on Cool Beans World include Simon Bisley's eagerly anticipated computer animated Doomkeeper series followed by another new hot off the press Bisley project, Wrestling Wars. These will appear alongside Scarlet Traces - a sequel to War of the Worlds, Nobody a spy thriller with a twist, illustrated by Charlie Adlard, and Torturer which reunites the Nemesis team of John Hicklenton and Pat Mills.


Cool Beans World will also feature fun extras such as desktop themes, games, screensavers, animated sequences and exclusive behind-the-scenes material. Cool Beans World will also feature loads of exclusive merchandise including posters, signed prints, T-shirts and many other goodies."
A visual (found here thanks to Tanaphé) and details (found here) about the production of Saintly: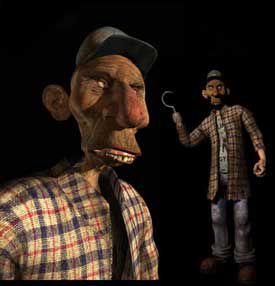 "Cool Beans World has announced plans to develop a CGI feature film based on it's twisted on-line toon, Saintly. Saintly, which is being published as a graphic novel, tells the sinister tale of a small townlocked in an action packed battle with the forces of evil. According to the announcement, the movie created quite a stir at the recent Berlin Movie Forum.
"The response to Saintly has been incredible", said Nick Percival,creative director of Cool Beans Productions, "We always knew that we had something special in Saintly, but the intense interest we've received from the major film studios has been fantastic. We're following that interest up and expect to advance some of the discussions shortly."
Saintly tells the story of Abby Sterling, a young school teacher who finds her first day in a new job going from bad to worse when Jediah T. Kane and his carnival from Hell invade the town. The demonic Jediah has an old score to settle with the town of Saintly, and the events of seventy years ago may hold the key to unlockthe mystery. The only thing that stands between Saintly and infernal destruction is Abby's motley band of kids and survivors - including Gimpy, the town drunk who faced Jediah as child, and Dr Krieger, the mysterious and demented townmedic. As good faces off against evil for the fate of the town, action and dark humor combine to create a unique and unforgettable experience.
Saintly represents a crucial shift in the way CGI animation is applied to feature films. "Up until now, CGI films have been geared towards the children's market", explained Nick Percival, "And companies like Pixar and PDIare brilliant at creating crisp and colorful worlds for that market. Cool Beans Productions is approaching feature animation for the early teens and above, using established comic book artists to create a gritty, detailed world of characters, previously unseen in the medium. Following the conversations we had at Cartoon Movie, we're more confident than ever that the time is right for a different kind of CGI movie."
An enthousiastic Pat Mills …
"The animated version of Law is cool. The Web is changing all of our lives so comics must progress. I don't think it will harm the paper version; it might help it. Maybe cyber comics is a way to get our market share back from computer games. And if anyone can do it, Cool Beans can. They like and understand the media they're working in and the audience reaction has already proved it's a success. So the interesting question is … where will cyber comics be five years from now?"
… who still has hopes and beliefs:
"Coolbeans certainly had a fantastic dream which I can't congratulate them enough on. Anyone trying to do something different and exciting needs encouraging and, if it doesn't work out, our sympathy. If the rumours are true , I don't believe it's the end of the line anyway. I think Coolbeans created something so special and innovative that it won't go away. Something new and even more dynamic will emerge from it."
Web link, hosted by Top Shelf Comics, to Marshal Law's animated short (© Nick Percival, modelled by Andy Hall, Geoff Lambertsen and Rob Richardson).
Three posters (one's can find easily on the web), including two of the animated Marshal (the one on the left has been used for the cover of "Marshal Law: Origins").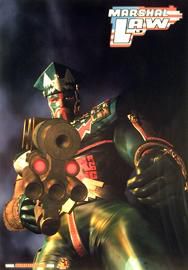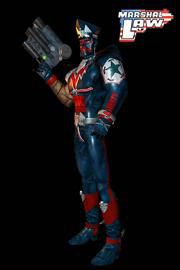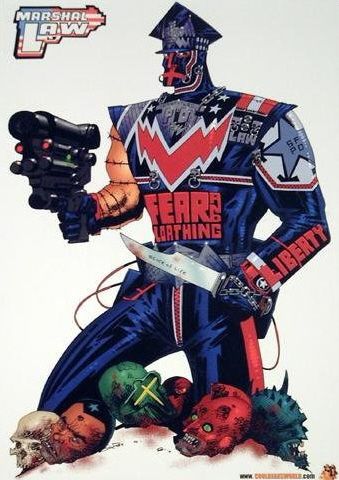 Bellow one's can see an excerpt from the final gallery illustration of the paper version of "The Day of the Dead" (Kiloton cloned twin brother, head prison ward at Alcatraz).