News and works in progress, april 2011
News
Pat Mills and Kevin O'Neill will be attending a conference, "Marshal Law and More", at the first Kapow! Comic Con in London, saturday the 9th at 10 am. More details here.
The independent American publisher Top Shelf had ceased last month to announce the release of its Marshal Law omnibus. Furthermore, it's now official (see Pat Mill Facebook page), DC Comics will handle the reprint of Marshal Law stories. Hopefully an edition that will be worthy of the long wait (2 years now)!
Pat Mills on march the third, 2011:
"Kevin O'Neill and I just signed up Marshal Law with DC Comics.
So they will be reprinting the existing material - in formats and on a schedule to be determined.
It's great to see Law being published by DC. It means our character is finally going to be seen by an entirely new generation of readers. A character who was the original and remains the strongest of all the critiques of super heroes. i think this is l because I really mean it - that is to say, I share Law's perspective and his angry desire to find a hero in a world that is supposedly littered with them. And of course that's doubly true for Kevin; so we encourage each other in our various visual and story excesses . DC's enthusiasm for such a hard core and uncompromising character who really lifts the lid on the world of costumed heroes is an encouraging sign of the changing publishing times we live in.
Whether Law ever gets a chance to later "interact" with the heroes of the DC Universe remains to be seen, but I can always dream."
For the record, in a 2009 article, Pat Mills confirmed that the Savage Dragon story would be coloured, and the Pinhead story re-coloured for the now cancelled Top Shelf oversize format omnibus.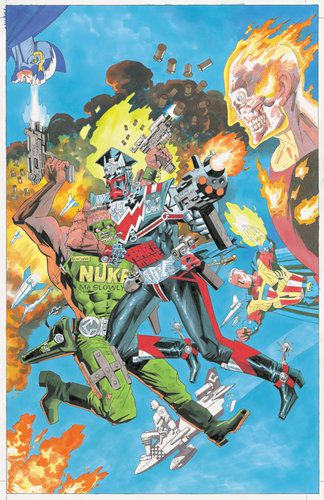 Works in progress
I have now finish the publication details of each story or paperback, and I will develop the "themes" parts as well as an exhaustive "References" section (and a few juicy quotes to finish each article with a smile) in the near future.
This month addition:
- aditional material (1990): full article
- aditional material (1989): full article
- aditional material (1991-1993): full article
- released material in italian language (see "Fear and Loathing" paperbacks, "Marshal Law Takes Manhattan" and "Kingdom of the blind")
Again, any English spoken reader is welcome to suggest spelling or grammar corrections.
- additional material (1987): Amazing Heroes #125
- references and quotes sections from "Fear and Loathing", it's now a full article