All illustrations are © Kevin O'Neill & Pat Mills
Released material
48 pages, drawings, inks and colours by Kevin O'Neill. Lettering Steve Potter.
This story, which is the first part ("Rise of the Zombies") of a whole ("Super Babylon" being its conclusion), was first pre-published in the fortnightly British magazine Toxic! (Apocalypse Ltd), through # 1 to # 8, between March 28 and May 16, 1991 (magazine format and good quality paper).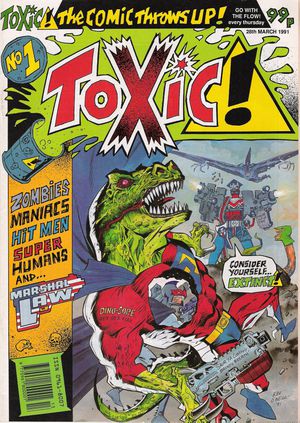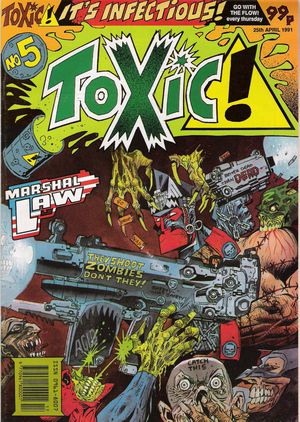 This magazine, initiated and edited by Pat Mills, used the Marshal story as headliner for its launch. The logo of the magazine will also appear in the story.
Marshal Law will make the cover for #1 and #5. For the first three issues, the publishing rate was around 8 pages. From # 4 to # 8, it will fall between 4 and 6 pages, and then we will never see more unpublished material of Marshal Law in the magazine (it lasted 31 issues).
Note that # 6 contains a front page feature, where the bottom of Black Scarab thought bubbles are red instead of yellow (see Toxic! #7). This was corrected for the release of the paperback. Similarly, the Marshal logo used in each of the first page, has been removed in the paperback.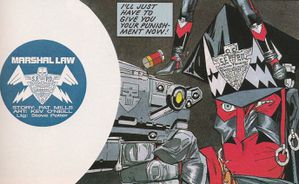 Apocalypse Ltd, immediately released the paperback both in the UK and the USA, in comics format (softcover), with the Toxic! #5 cover (cover of Toxic! #1 will be used for the back cover). It comes with a very good quality of paper and printing, and new illustrations for the second and penultimate of cover.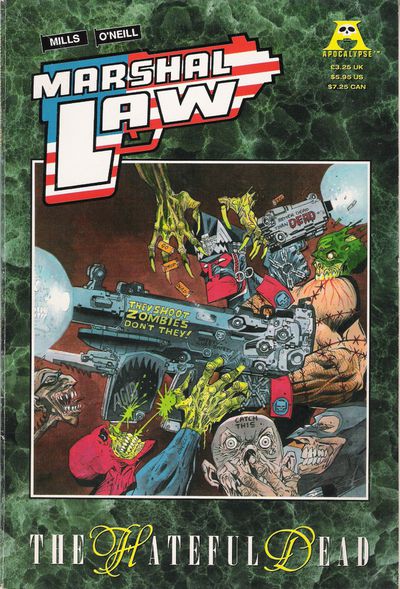 In 1993, Dark Horse Comics published this story in the "Blood, Sweat, and Fears" collection. Very good paper quality but the colours are slightly less vivid than the original one shot. "Blood, Sweat, and Fears" will be reissued in the UK by Titan Books in 2003, with the "Super Babylon" cover, without the minor colour problem (detailed contents of these 2 books here).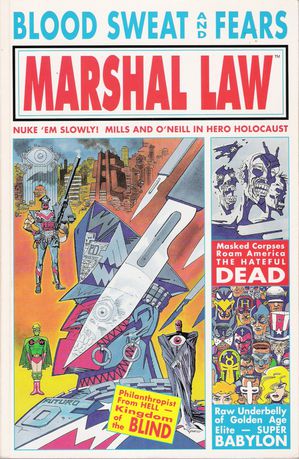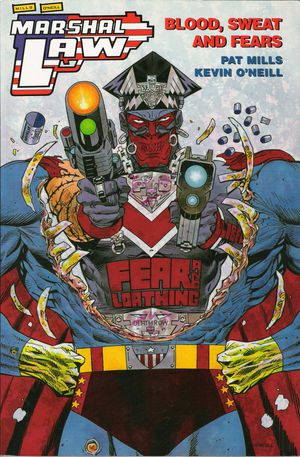 It is interesting to pinpoint that the character design is evolving under the pen of Kevin O'Neill. He is more and more elegant and stylised (we barely see the inverted cross on the mask of the hero during this adventure). Graphically, Kevin's drawings begin to be much closer to his last work (''The League of Extraordinary Gentlemen''). Note also a growing prominent jaw for the Marshal, that his alter ego does not possess (which adds to his schizophrenic side). I also think that the original subdivision in mini chapters, make this story one of the most rhythmic and entertaining.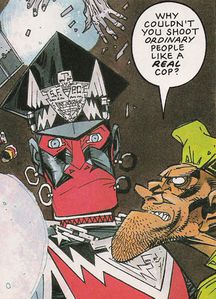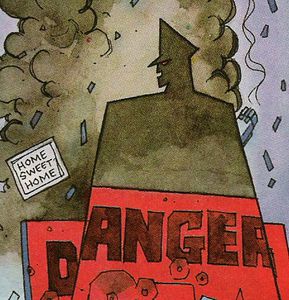 In Italy this story has been reprinted in 2014 by RW edizioni (see here for details) while adapting the recent US DC Deluxe Edition: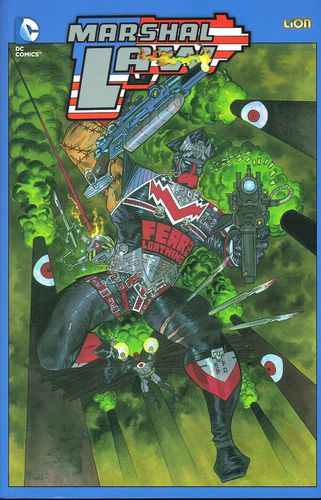 Spanish edition:
this story has been recently reprinted by EEC (see
here
for details) in the second volume adaptation of the recent US DC Deluxe Edition: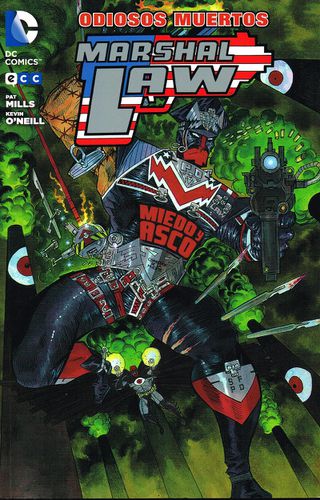 Plot
Toxic wastes resuscitate superheroes buried in the San Futuro's cemetery, and turn them into Zombies. Marshal Law is mostly responsible for the death of these so called heroes; nevertheless, he is pretty keen to do the work twice.