The Mask/Marshal Law (1998)
All illustrations are © Kevin O'Neill, Pat Mills & Dark Horse Comics
Released material
2x 22 pages, drawings and inks by Kevin O'Neill, colouring by Dave Stewart and lettering by Ellie Deville.
This two part story (comics format) has been entirely scripted by Pat Mills, Mike Richardson being cited only to have created The Mask. As well as the adventures of The Mask, these issues were published by Dark Horse Comics.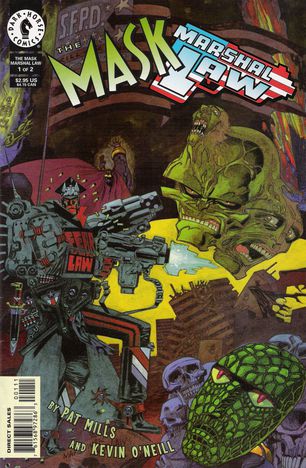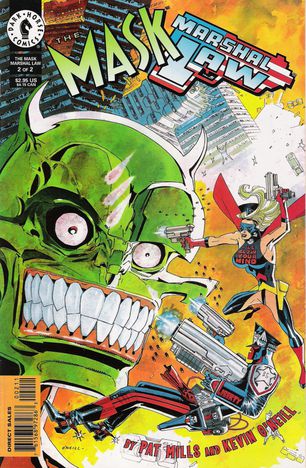 That story has been collected in 2003 by Titan Book in the "Fear Asylum" paperback.
Plot
Now that Marshal Law would no longer feel hatred for superheroes, he is determined to resign while preparing his succession. But a team of scientists leading by Dr. SHOCC, is trying to remove the Sleepman from his coma, and are ready for this purpose to try on him a mysterious artifact (the infamous Mask of the title).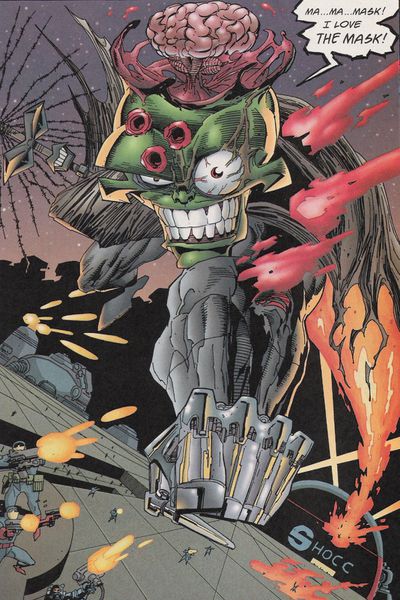 An introduction to the universe of The Mask
For a detailed history of John Arcudi and Doug Mahnke's character (from a concept by Mike Richardson) , go here. In short, the comic features a magical mask that transmits to its owner the power to reshape reality (most often in a cartoony style), while making him completely invulnerable. In addition, the mask alters the physical look of the holder (a green head struck out with a big smile) and his personality by removing its inhibitory psychological barriers.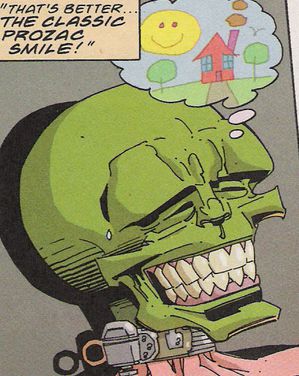 It is this latter capability that may be sufficient to justify a cross-over between the two characters, since it will nurture again the psychologic evolution of Marshal Law.